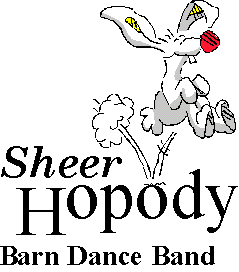 Sheer Hopody Barn Dance Band
"The Kings of English Ceilidh"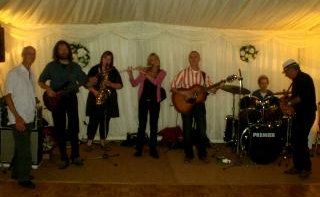 Fun for Everyone at your Wedding Reception, Wedding Anniversary, Birthday Party...
A Barn Dance (or 'English Ceilidh') is a great way of celebrating your special occasion. Let our lively, Devon-based ceilidh band entertain you with a wide range of 'up-beat' folk music, while our 'caller' leads you through the steps. You can't go wrong? Oh yes you can - and all the more fun for everyone!
If you've been to a barn dance before, you'll know that this really is the way for all your guests to enjoy themselves. No-one need get left out and mixing is guaranteed.
About the Bands...
Our ceilidh bands are available in three different 'flavours' from a 4-piece with melodeon, guitar, bass and flute - up to a 'full-bodied' 6-piece offering fiddle and sax as well. The result is good, solid, danceable music that sounds great, and yet is very easy on the ear. Whatever the line-up, we'll bring the best english ceilidh music to your event anywhere in Devon, Somerset, Dorset or Cornwall.
Our Caller
We are very honoured to have Martin Hodge as our Barn Dance caller. Martin is a highly experienced and respected caller with many years of teaching dances at barn dances, ceilidhs, and circle dances. His knowledge of suitable barn dances is wide-ranging and he teaches each dance in a gentle and well-mannered style that never fails to please.
Sounds Good?
It certainly does! For us, the sound quality is as important as the quality of the musicians. Our carefully chosen, high quality modern equipment coupled with good technical expertise ensures that the overall performance is first class: good dance music should be loud enough to dance to but still be pleasant to listen to. We make sure of that!
How much will it cost?
This really depends on when and where the dance will be and the size of band you choose. As a guide, a barn dance or ceilidh somewhere in the Exeter/Crediton area of Devon would cost £560 for the 4-piece line-up and caller. However, if this is for a very special occassion such as a wedding or anniversary, we would very much recommend one of the larger line-ups. Detailed options are given on our Barn Dance Band Menu.
Will we deliver the goods?
Well, we've been doing barn dances and ceilidhs in Devon and beyond since 1995 and have never let anyone down or failed to meet their expectations. Indeed, on the contrary - read some of the comments from previous clients.
Enquire within...
If you would like Sheer Hopody Barn Dance Band to help you celebrate your special occasion in style, please contact us via our:



Sheer Hopody is one of a number of excellent barn dance (ceilidh) bands performing in Devon, West Somerset and North Cornwall, and throughout the South West of England. If we cannot help you for your particular occasion, we may well be able to recommend some other west country barn dance bands you could ask.
We are happy to receive enquiries for corporate entertainment, product launches, team-building events etc. and can also provide some european circle dances in addition to the more traditional english ceilidh dances if that suits.
You may be thinking of having live music at other times during your celebration, and with our wide range of professional musical contacts in Devon and throughout the West Country, we would be more than happy to arrange this for you, - or put you in touch directly if you prefer.
For booking enquiries, please use our online enquiry form.
For general enquiries or comments, please get in touch via our ssMail::ContactMe Form.Thank you.

Sheer Hopody Barn Dance Band
Devon, England, UK